TK8 Safe is a perfect password management software
with features covering all aspects of storing and using
sensitive information.
Portable Password Database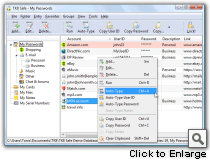 TK8 Safe is a portable password program. You can run it directly from any removable media like your USB memory stick.
Having your password database on your memory stick is the perfect solution when you need to use your passwords while traveling or you're using more than one computer.
Your database is highly encrypted so should you lose your memory stick you don't have to worry. Strangers have no way to access your sensitive information.
If you prefer using local copy from your database, you can do that, even on multiple computers. A unique synchronization feature in TK8 Safe can keep your files up to date, even when you have changed them on different computers. Just select the two files you want to match and the data is updated.
Together with the popular DropBox service (which is free) your TK8 Safe database can be automatically synchronized over the Internet. When you have two computers connected to the Internet and you change your data in one of them, it's immediately available from the other computer. It even works with three computers.
By using DropBox you will automatically have a secure online backup from your database. In case your computer and even your memory stick is stolen or damaged in a fire, you still have your passwords.
TK8 Safe will remember your passwords, securely. No matter where you need them, you always have them!