TK8 Safe is a perfect password management software
with features covering all aspects of storing and using
sensitive information.
Keeping Your Passwords is Easier Than Ever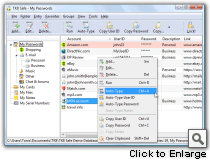 All password programs can keep your data, but only few make it easy to use.
TK8 Safe is an application that makes keeping your passwords easy.
Creating secure passwords for your accounts is not all that is easy; using your sensitive information is also easy.
In case you need to check out some account details or password history, finding the right entry takes only a few clicks.
Right click on the account record and the menu appears. There, you can select what you would like to do. For example you can run the website related to that account, or copy some details to the clipboard.
In most cases you don't even need to surf in the program. When you're at a login page, just hit the Auto-Type hot key on your keyboard and TK8 Safe will automatically log in to that website.
Of course, when your database is locked, you have to verify yourself by entering the master password before the Auto-Type will fill in the login prompt.
With TK8 Safe you can surf the web and not worry about passwords. When you're at some login prompt, it takes only one key press to log in.
What's good and different with TK8 Safe is that the Auto-Type function works with all browsers and programs that require passwords.
Stop using your passwords the hard way!

Download TK8 Safe and see how much easier using your passwords can be!