TK8 Safe is a perfect password management software
with features covering all aspects of storing and using
sensitive information.
If you have passwords then TK8 Safe will make your life easier.
No more lost passwords and headaches remembering them. No more fears strangers can see or use your information. It's safe and simple!
You can keep all your user names and passwords, secret notes and serial numbers in one secure database file. The file is encrypted and not available to anyone else.
Here are 9 good reasons to get TK8 Safe today:
1. Top security
Your data is protected with the Advanced Encryption Standard (AES 256) algorithm. The U.S. Government uses AES to protect classified information up to the TOP SECRET level, which is the highest security level and defined as information that would cause "exceptionally grave damage" to national security if disclosed to the public.
On top of AES, additional security measures and encryption methods are used so you can be absolutely sure your data is protected in the best possible way available today.
2. Easy to use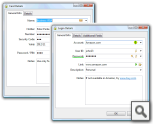 TK8 Safe Password Manager not only stores your information but helps you use it. A fast and easy-to-use interface allows you to find information quickly. You can also use folders to group the information better.
Searching, sorting and finding passwords has never been easier.
3. Automatic login
Log in to password protected web sites automatically! Just select "Auto-type" from the menu or press a hot key when you are at the login prompt. The program will locate the required entry automatically and fill the login prompt for you. It works with all browsers and programs that ask for passwords.
Of course, you can also launch web pages or files related to password entries and use classic Copy and Paste commands
4. Auto lock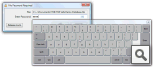 The password file can be locked if you leave the room, so the information always remains protected. Even if you forget to lock the file, the program will do this automatically after it is unused for some time.
5. Hidden when you don't need it
If you like, you can use the Password Manager in the system tray mode. In this way no room is taken away from your taskbar. And you can still access all the features easily by clicking on the icon in the notification area (next to the system clock).
6. Portable
The program is fully portable, which means you can run it directly from any removable media like a USB memory disc. So you can carry the entire program and your passwords in your pocket, knowing only you can access the information.
If you have a DropBox account, your password database can be automatically synchronized over the Internet to use on multiple computers.
7. Advanced features
For advanced users there are many options and additional features including: full multi-user support, which allows more than one user to work with a single file at the same time; additional encryption methods; and automatic password backups. Convenient hotkeys make it easy to fill in login prompts and bring up the software to add new accounts. The integrated password generator makes it easy to come up with new strong passwords and makes sure they are secure. The file synchronization feature can merge two databases that are kept and managed separately.
8. Help and support
A help file is included with the program so you can get to know all the features and benefits TK8 Safe offers. In addition you can download the printable manual in Adobe PDF format.
Should you have any questions, our fast support team is always ready to help you. Of course, the support is free.
9. You'll love it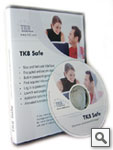 See how much easier using your passwords can be!
Get TK8 Safe now!
You can install and try the program for free. If you like it, you can order the license key later.

"After months in use, I can say that this is one of the most valuable tools I've ever used. I can't believe I got by in the past without it."
Gerald Parker
Platform Requirements:
TK8 Safe runs on Windows 10, 8, 7, Vista, XP, 2000 and Server editions;
Both 32-bit and 64-bit systems are supported.

"Just wanted to let you know how impressed I've been with your TK8 Safe product. finally found it a few months ago after searching long and hard for a password program that met all of my criteria, and had almost given up. It is, in my opinion, not only the best password manager on the market, but one of the most elegant and carefully thought-out applications of any category - and I'm VERY picky."
David Barber