TK8 Backup is reliable, easy-to-use backup software
to ensure you never lose your important files.
TK8 Backup will protect your data from loss including file corruptions due to computer crashes, hard disc failures, human errors, theft, virus attacks, etc.
If you care about your information, you should use TK8 Backup.
Here are 12 good reasons to get TK8 Backup today:
1. Automatic backup system
Making backups of files and folders is fast and easy. Imagine how convenient it would be to have your documents, contacts and e-mails (Outlook, Outlook Express and Windows Mail) all backed up daily, automatically.
By setting up different backup tasks you will have a flexible backup system. Each task can have its own settings like which folders to back up, how often, how many previous backups to keep, where to keep them, etc.
When the program is first installed, it will find the most popular applications and data you probably want to back up. Tasks are created and scheduled automatically. It's that easy. You're not only saving time, but spending no time at all to have all the necessary data backed up.
2. File backups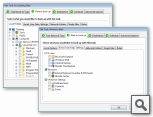 TK8 Backup is file backup software. It is designed to back up your documents, files and folders. It will not make full system backups, which would include everything put into one huge backup file (including the operating system and boot sectors).
File backups have many advantages over the full system backups. Most important is that file backups are much smaller and will take less time to create. They are also easier to operate; you can restore a single file or folder when you need it. You don't have to restore the entire system to get back your valuable data.
3. Full, Incremental and differential backups
In addition to full data backups, TK8 Backup can create incremental and differential backups. With those backup types, only changed or added files are backed up, compared to the last backup. This means smaller backup files and saved disc space.
4. Security and Compression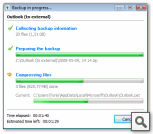 Backups can be password protected and encrypted. One of the most secure encryption algorithms is used to secure your data (256 bit AES). So you never have to worry about unauthorized access to your information.
To save your disc space, all backups are automatically compressed. The popular ZIP compression is used. For example, text documents can be compressed more than 90%.
By using the universal ZIP format, your backups can be opened with other applications and you are not "locked" to TK8 Backup.
5. Back up to different types of storage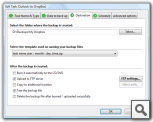 Backups can be saved to your hard drive, local network drives, CD, DVD, USB discs, Zip drives, Jazz drives, MO drives, etc. If your backup is too large to fit onto one disc, TK8 Backup can split it and save it on multiple discs. Even duplicate locations can be set up to keep your data in more than one place.
6. Off-site backups
You also have the option to automatically upload your backup ZIP files to an off-site server using the built-in FTP client, so the information is available should a fire or burglar destroy your computer.
If you have an online file storage account, you can keep your backups on that account. For example free DropBox is a good solution that can securely host your backups on-line.
7. Scheduler to automate backup jobs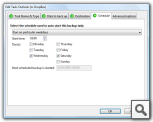 Once backup tasks are set up, you can make backups with a single mouse click. You can also use the scheduler, so backups are created automatically on an hourly, daily or monthly basis.
By using scheduler, you don't have to worry about forgetting to back up your data. Different options and a unique folder monitoring system ensures you always have the latest version of your important files.
8. Easy backup management
Not only making but also managing your backups is important. As you can have separate backup versions of your data, it is important to see how much space they are taking, where they are located, which files they contain, etc. You might also want to burn additional copies to another CD or DVD. For all this, a recent backups list is always visible on the main screen, allowing you to easily manage your backups.
9. Quick restoring and self-extracting backups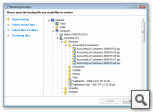 Built-in Restoring Wizard is the tool that makes restoring your data easy. To get your data restored, just follow the steps. Or you can use the Quick Restoring option meaning the backup is restored to the original locations without any wizard questions.
TK8 Backup can also create executable backups. In addition to your data, the executable backup contains the restoring wizard. You don't need any other program to restore your data. Just execute the backup file and follow the wizard steps.
10. Features for advanced users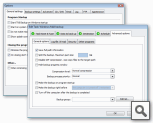 Advanced users can benefit from additional features and options like filtering source files, backing up open files, unlimited backup file size, backup process logging, e-mail notifications, processor usage limits, system tray mode, hidden mode, integrated CD and DVD burning tool, easy FTP management utility, etc.
11. Help and support
A help file is included with the program so you can get to know all the features and benefits TK8 Backup offers. In addition you can download a printable manual in Adobe PDF format.
Should you have any questions, our fast support team is always ready to help you. Of course, the support is free.
12. Peace of Mind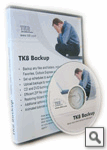 Never worry about losing your important files;
get TK8 Backup and keep your data safe!
You can install and try the program for free. If you like it, you can order the license key later.

"I must say that this is a very fine piece of software, works rocksolid and is the only only one that works this way! And believe me, I tested a lot of backup-programs!"
Andreas Hoffmann
Platform Requirements:
TK8 Backup runs on Windows 10, 8, 7, Vista, XP, 2000 and Server editions;
Both 32-bit and 64-bit systems are supported;

"I can't believe how fast you got back to me! We bought your program after we had a hard drive failure on a computer that was less than 1 month old - -since that time, we've used your program to do regular backups -- well, unfortunately, the hard drive failed on the SAME computer -- that makes two hard drive failures in 6 months -- but this time -- we had all of our backups, thanks to your program! We are extremely happy with this program. We compared it to others before we bought back in January and your program offers so many more usable features for LESS money -- I like that! :-) Thanks for great program -- and your EXCELLENT customer support!"
Wendy Estes